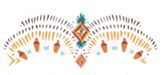 Cultural Icons Found in Our Restaurants
Each of these items represents something significant to their Hispanic culture of origin and we're proud that they can be found in every Uncle Julio's. Tap or click the images below to discover their importance. And, the next time you visit us, see if you can spot them all.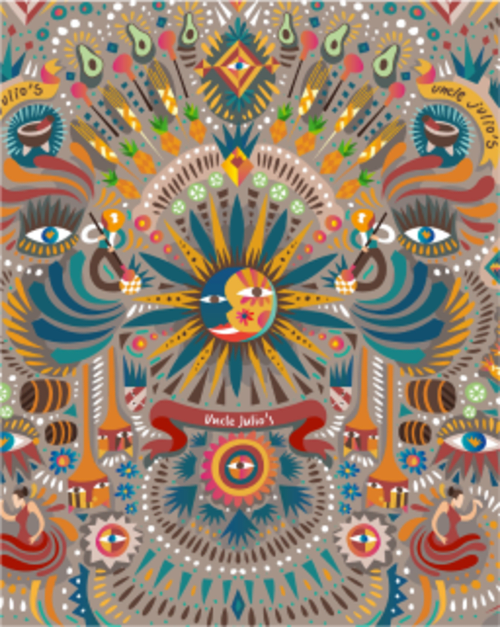 This beautiful work of art was painted by the very talented Mexican artist Claudio Limon. To see more of his work, visit @claudiolimon on Instagram.
Our Mural
Our furnishings, inspired by Mexican architecture and art, are as carefully curated as the ingredients in our recipes.
Decor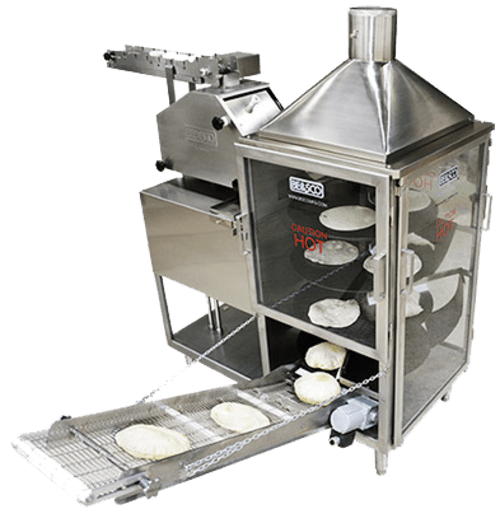 We use this machine to press balls of masa dough into round corn tortillas. It is the pro-kitchen version of the classic manual press found in many Mexican households.
Tortilla Press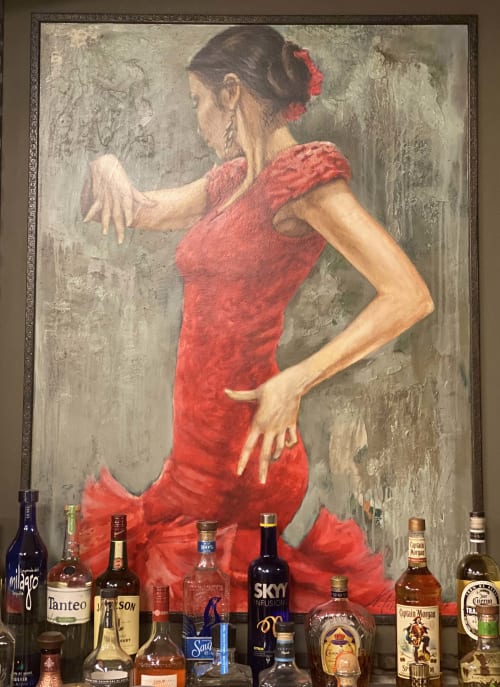 We may never know who she really is but legend has it that each year on Día de Los Muertos, her salsa steps can be heard late at night from the kitchen.
The Lady in Red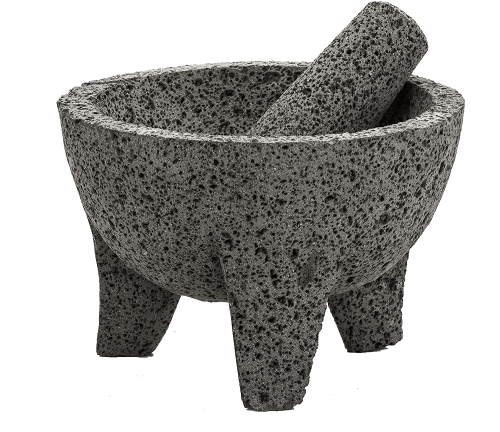 Made of volcanic stone, these traditional Mexican mortars have been used for thousands of years by prehispanic cultures like the Aztecs & Mayans.
Molcajete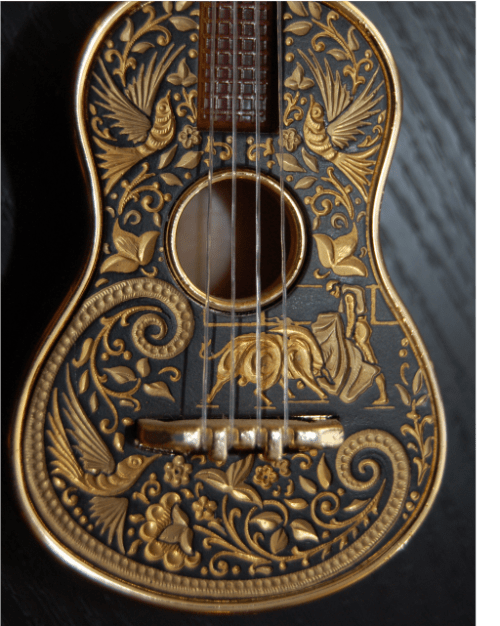 Music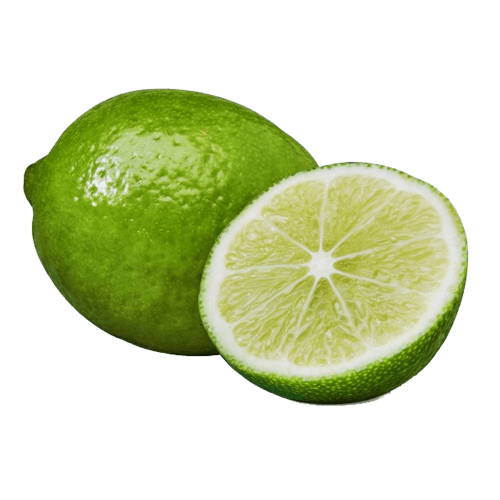 Mexican limes are widely used in cuisine to offer a vibrant, acidic note to food and drinks. To craft our margaritas, we freshly squeeze more than 500 limes every single day.
Limes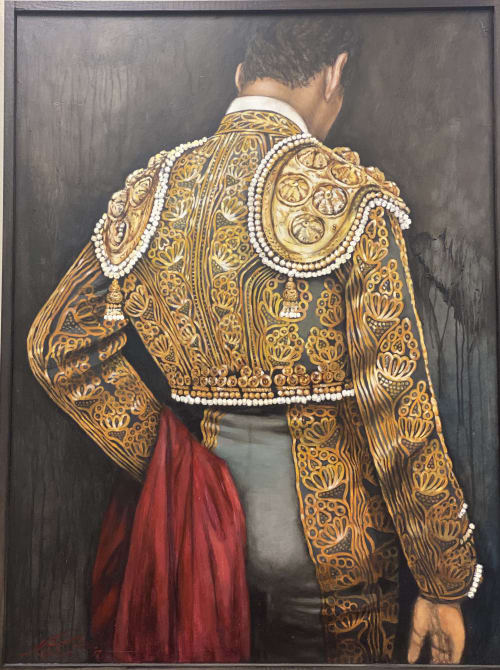 Mexicans Rodolfo Gaona, Armillita, and Carlos Arruza are considered some of the most graceful and daring matadors of the 20th century.
Matador Art
When you smash a piñata in celebration, you are honoring a Hispanic tradition that is more than 700 years old.
Chocolate Piñata
Our Hispanic American Familia
From the kitchen to the front door, we appreciate everything that our Hispanic American team members do to make you, our valued guests, feel welcome here.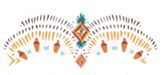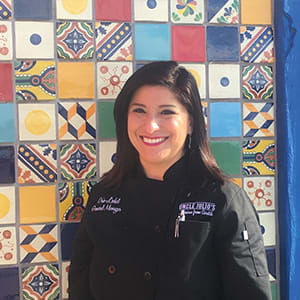 Meet
Orio Lodal
Senior GM
"What we inherit from our culture and bring with us are hard work and unique traditions that we can share on a daily basis."
Orio has been with us for more than 26 years! And we're lucky to have her — her warm smile and energy never fail to brighten her home restaurant in Arlington, TX.
She likens the experience of serving our guests at Uncle Julio's to how her family treats guests in their home. There is love and care put into every dish. And all of the hard work is worth it to see expressions of delight that flash after each bite.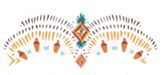 Meet
Amanda Gonzalez
Director of New Restaurant Openings
"In Hispanic cultures, food is how you show your love. It's an act of service."
When Amanda first started serving at Uncle Julio's, she liked the job but never would have anticipated where it would take her. 16 years later, she travels all over the country as our Director of New Restaurant Openings and credits leadership for inspiring her to believe in herself.
For Amanda, she loves working for Uncle Julio's because of the immense pride she gets from creating experiences for our guests. It's a true labor of love. She'll also admit that she enjoys taking inspiration for food and drinks home with her and is now "kind of a margarita snob."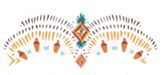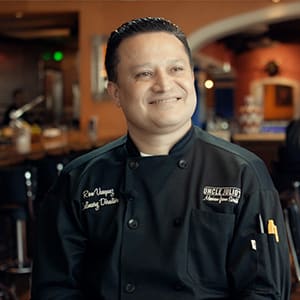 Meet
Ron Vasquez
VP of Culinary
"Food brings us together. From childhood to now, when I go to see my family, the first thing I get asked when I walk through the door is: what do you want to drink? What do you want to eat?"
For more than 25 years, Ron has been a vital part of the Uncle Julio's family. As our long-time culinary director, his exquisite taste and unmatched creativity have given rise to many of our most innovative and popular menu items.
But when he dines at Uncle Julio's, he sticks to familiar flavors that remind him of what he ate as a child. Like, our tender Carne Asada and Guadalajara fajitas with shrimp, chicken, and beef.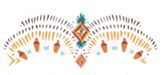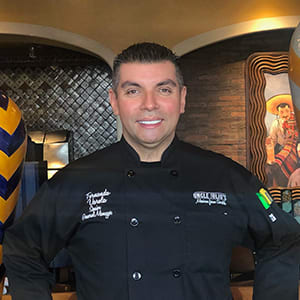 Meet
Fernando Varela
Senior GM
"Our work ethic is our heart and soul."
Integrity. Loyalty. Respect. Sincerity. Pride. These are just a few of the values that Fernando raises when asked about his Hispanic Heritage. For 13 years, Fernando has been an integral part of Uncle Julio's team and is always there for his teammates.
He never forgets how the livelihoods of so many families rely on the food and experiences we offer our guests. It is that love of the people he works with, and the food we create, that gives him such pride in his role as General Manager of our Allen, TX restaurant.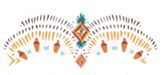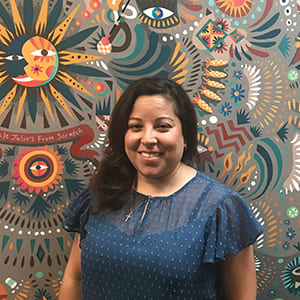 Meet
Ana Garcia
Payroll Supervisor
"I come from a big family and most of my time is spent with family. That's a big part of Hispanic culture."
Ana is a relative newcomer to our team and when she was searching for a job she sought somewhere with work-life balance. She didn't want to miss seeing her daughter dance or her son play baseball.
We're glad that she's found balance at Uncle Julio's and was able to see her children off for their first week of school.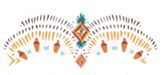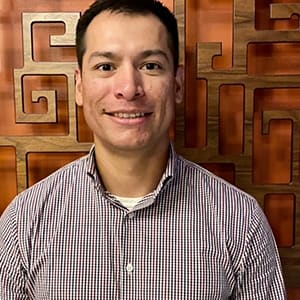 Meet
Marcos Avila
Director of Operations for Hacienda Colorado
"It's a way of life. Everyday I live like I was taught when I was young... I want to make people feel welcome, like they are at home... It's just the way I was raised."
Marcos is often asked if he's in the military. And it's not because of a haircut or choice of uniform. It's his polite way of speaking — there's plenty of yes sirs and no ma'ams. Marcos carries this respectful, but easy going, nature into all aspects of his work and personal life and he credits his big, traditional Hispanic family for instilling it in him.
For him, Uncle Julio's and our Hacienda Colorado locations are just another big family. Somewhere that members can sympathize with each other, lean on each other, and of course, feed each other well.

Taste Traditional Flavors with a Modern Twist
Start and end your Hispanic Heritage celebration at Uncle Julio's with these dishes rooted in Hispanic history.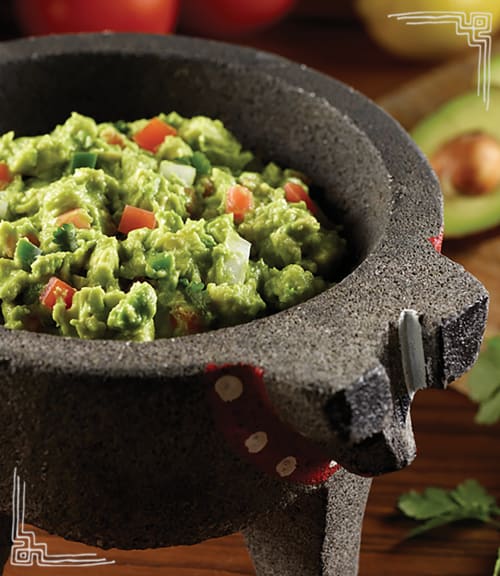 Our Made-to-Order Guacamole
Our signature guacamole is crafted and served in a traditional molcajete. This ancient Mexican cooking tool imparts our fresh ingredients with a unique depth of flavor.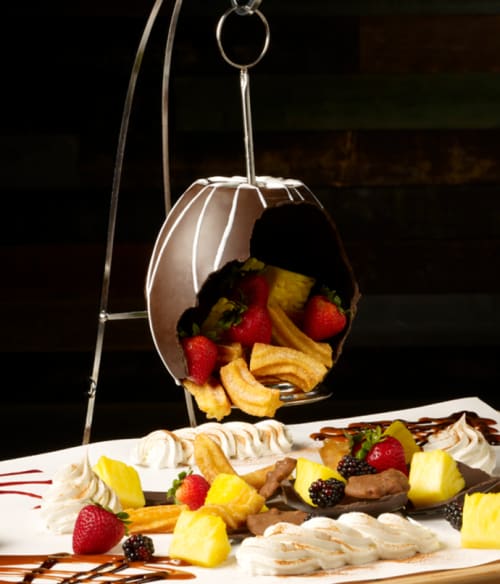 The Chocolate Piñata
Hispanic cultures have been smashing piñatas in celebration for more than 700 years! Take a swing at our one-of-a-kind smashable dessert, inspired by traditional piñatas, to give your visit a grand finale.
Fresh Margarita of the Month
Did you know that authentic Tequila is only produced inside the Mexican state of Jalisco, and only in a few other municipalities? Our margaritas are always crafted with 100% agave Lunazul Tequila, St. Germain, and the freshest fruit. This month's feature: Fresh Blackberry!
Immersive Cultural Experiences
Discover more history, heritage, and accomplishments of Hispanic and Latino Americans by visiting these museums and cultural centers.
Our Hispanic Heritage Month Spotify Playlist
This collection of bolero, salsa, reggaeton, and more of our favorite Hispanic music will keep your feet moving all month long. Listen below, or add this playlist to your Spotify account!